CANADIAN ASSOCIATION
OF PHYSICISTS
ASSOCIATION CANADIENNE DES
PHYSICIENS ET PHYSICIENNES
PRESS RELEASE / FOR IMMEDIATE RELEASE
---
2000 CAP MEDAL
for Excellence in Teaching Physics
awarded to
PROFESSOR ROBERT L. HAWKES
"I am grateful to the Canadian Association of Physicists and my colleagues and former students who put together the nomination. I have found university physics teaching to be incredibly satisfying and rewarding, and feel fortunate to have been able to teach at Mount Allison with supportive colleagues and staff, and superb students."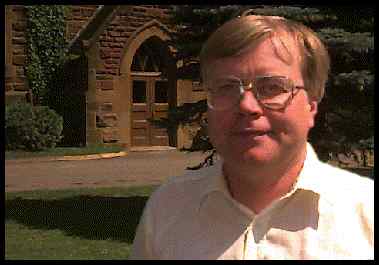 Ottawa, March 21st, 2000 - The Canadian Association of Physicists (CAP) is pleased to announce that its 2000 Medal for Excellence in Teaching Physics will be awarded to Professor Robert L. Hawkes of Mount Allision University for his superb innovative teaching both inside and outside of the classroom, his development of multimedia teaching materials, and his many presentations on teaching and curriculum development.
Dr. Robert (Bob) Hawkes has shown a remarkable dedication to teaching and education in his nineteen years as a professor at Mount Allison University. He has been recognized within the university and across the country as a pioneer in physics education for his varied approaches to teaching. He has been an innovative leader in multimedia education, publishing two CD-ROM textbooks and developing tele-education programs. Bob's commitment to communicating his ideas about education are evidenced by his involvement with the Society for Teaching and Learning in Higher Education (STLHE), teaching workshops, and public talks.
Most importantly, the tireless devotion he applies to his teaching has inspired high achievement in his students, all of whom speak of him with great affection and respect. He has been an excellent role model for his students and peers alike, demonstrating that it is possible to couple a passion for teaching with an active reserach program, with the result being an unparalled success as a conduit for knowledge and understanding.
Dr. Hawkes has a Ph.D. in Physics, and a Bachelor's degree in Education. He has taught undergraduate physics courses at Mount Allison since 1980, and has consistently been recognized as one of the most capable and effective professors at the University. He is equally popular with students in large service courses (Astronomy, Introductory Physics) and with students taking courses for Majors or Honours degrees in Physics. Dr. Hawkes is actively involved in teaching committes at the university, and nationally. His teaching skills and talents have been recognized with local awwrds (the Herbert and Leota Tucker Award for Excellence in Teaching (1988), Paul Paré Award of Excellence (1995,1997), Paul Paré Medal of Excellence (1998)), regional awards (APICS/Power Utilities Atlantic Science Teacher Award (1991-92)), and national awards (3M Teaching Fellow Award, 1988).
The CAP's Medal for Excellence in Teaching Physics was introduced in 1996 and has been awarded annually since. The 2000 Medal will be presented to Prof. Hawkes during the CAP's awards banquet to be held at York University on June 6th, 2000.
The Canadian Association of Physicists, founded in 1945, is a professional association representing over 1600 individual physicists and physics students as well as a number of Corporate and Departmental Members. In addition to its learned activities, the CAP also undertakes a number of activities intended to encourage students to pursue a career in physics.
For more information, please contact:
Canadian Association of Physicists
Tel: (613) 562-5614
Fax: (613) 562-5615
E-mail: cap@physics.uottawa.ca
- 30 -